YOUR ONE-STOP SHOP FOR DUPLEX, SUPER DUPLEX & NICKEL ALLOYS
Buttweld Fittings Manufacturers in India
Fortune Ferroment Inc provides total fittings solutions by manufacturing of Nickel Alloy / Stainless Steel Buttweld and Forged Fittings. The forte of the Stainless Steel Alloy in manufacturing products for critical applications by meeting the severe requirements which are then verified in the in-house Laboratory accredited to ISO 17025. The products are delivered in niche market such as Oil & Gas, Refinery & Petrochemical, Dairy, Chemical & Fertilizer, Thermal, Solar & Nuclear Power, etc. This makes the company an ideal choice for major EPC Contractors, project owners & process licensors across the globe. We manufacture steel pipe fittings in various shapes and size and specifications.
Butt Weld fittings are also called Welded Pipe fittings. These welded fittings in carbon steel and stainless steel offer many advantages compared to threaded and socketweld fittings.

Buttweld pipe fittings comprise of long radius elbow, concentric reducer, eccentric reducers and Tees.They are an important part of industrial piping systems to change direction, branch off or to mechanically join equipment to the system. Buttweld fittings are sold in nominal pipe sizes with specified pipe schedule.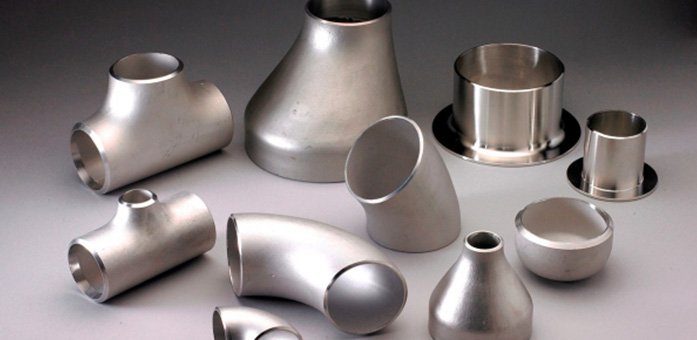 Types Of Fittings :-
The butt weld elbow is designed to change the direction of the fluid in the piping system. It has a long radius (LR) and a short radius (SR) type, and has different degrees covers to: 45 degree, 90 degree and 180 degree.
The butt weld tee (equal tee and reducing tee) has a 90 degree branch and a straight line pipe that will provide a connection to install another device for the pipeline systems.
Butt weld reducer can adjust the flow rate and speed. One end welded with a large diameter pipe and another end with a smaller OD pipe.
Butt weld cap is a sort of pipe fitting which covers the end of a tube. As it may have female threads, then it can twist into the end of this tube. Additionally, it may be welded on to near the conclusion of the pipe. On a weld, even if it's a temporary near, or the builder would like to increase the piping system later on, they should allow extra pipe prior to closure so that the pipe cap may be cut off along with the pipe system long as necessary.
Buttweld Fittings Specifications
Forged Fittings Specifications